List of lecturers at the summer school ADA 2014 Policies and Practices in Access to Digital Archives: Trustworthiness and Cost-efficiency: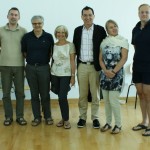 Nermina Bogicevic, Senior Archives and Records Assistant at the Special Tribunal for Lebanon (STL), The Netherlands
Nermina Bogicevic (Twitter: @nmesic) is the Senior Archives and Records Assistant at the Special Tribunal for Lebanon (STL), The Netherlands. Following a BA degree in Comparative Literature and Librarianship from University in Sarajevo, Bosnia and Herzegovina she received a Master of Library and Information Science degree from University of Applied Science in Cologne, Germany in 2009. Her master thesis examined the risks pertaining to digital preservation of the heritage of an international war tribunal (International Criminal Tribunal for the Former Yugoslavia) with a particular focus on significance of the heritage for the affected communities. At STL Mrs. Bogicevic is tasked with numerous fundamental archiving and records management duties as well as performing business analysis and providing best possible records management solutions for the end-user. Mrs. Bogicevic acquired Certified Records Manager (CRM) candidate status in 2012, a professional certification requiring continuous benchmarking against the standards set by the Records and Information Management (RIM) profession. She is an active member of Information Managers in International Organisations (IMIO) in The Hague, ICA Section on International Organisations as well as member of ARMA International since 2012.
Luciana Duranti, School of Library, Archival, and Information Studies, University of British Columbia, Vancouver, Canada
Dr. Luciana Duranti is Chair of Archival Studies at the School of Library, Archival and Information Studies of the University of British Columbia (UBC), and a Professor of archival theory, diplomatics, and the management of digital records in both its master's and doctoral archival programs. She is also Faculty Associate Member of the UBC College for Interdisciplinary Studies, Media and Graphics Interdisciplinary Centre, and Affiliate Full Professor at the University of Washington iSchool.
Duranti is Director of the Centre for the International Study of Contemporary Records and Archives (CISCRA, www.ciscra.org) and of InterPARES, the largest and longest living publicly funded research project on the long-term preservation of authentic electronic records (1998-2018), the "Digital Records Forensics" Project, and the "Records in the Clouds" Project. She is co-Director of "The Law of Evidence in the Digital Environment" Project.
Gabrijela Gavran, Faculty of Law Library, University of Zagreb
Gabrijela Gavran, Ph.D. is information specialist at the Faculty of Law Library, University of Zagreb. She earned her Ph.D. at Department of Information and Communication Sciences, Faculty of Humanities and Social Sciences, University of Zagreb.
Since 2003 she has worked at the Faculty of Law, Zagreb on digitalization. Her work experiences: manager of news library, news librarian, database manager. She worked as a manager of the biggest central news library in Croatia "Vjesnik Novinska dokumentacija".
She is the author of development and establishment of different projects in the field of digitalization of newspapers articles. She worked on numerous projects supported by The Freedom Forum, USA, The International Media Fund, USA, The Canadian International Development Agency, Open Society Institute New York, Electronic Publishing Budapest, The Government of Croatia, Ministry of Foreign Affair of the Netherlands, program MATRA (Social Transformation Programme for Central and Eastern Europe), U.S. Embassy, Zagreb (Democracy Commission Grants).
Neil Grindley, Coordinator for the 4C Project / Programme Manager at JISC
Neil Grindley is Head of Resource Discovery at Jisc, a charitable organisation that helps UK universities and colleges to more effectively invest in innovative digital technologies. Jisc is influential within the UK and maintains an international reputation for the quality, impact and scope of its work. Up until recently, Neil was responsible for the digital preservation programme at Jisc and commissioned numerous projects, reports and studies. He is still on the Board of three prominent digital preservation membership organisations (the Digital Preservation Coalition, the Open Planets Foundation, and the Alliance for Permanent Access) and is responsible for proposing and Coordinating the EC-funded 4C Project (a Collaboration to Clarify the Costs of [Digital] Curation). Neil has an MA in Computer Applications and the History of Art from Birkbeck College, London, and is also the Chair of the Computers and History of Art Group (CHArt).
Gabriella Ivacs, Chief Archivist and Records Manager at the Open Society Archives of Central European University in Budapest, Hungary
Since 1999, Ivacs has been responsible for the archival and records management strategies of the Open Society Foundations Network, a non-profit organization active throughout the world. In her capacity she provides expert advice to NGO archives, documentation centers, and memory institutions. Her current research explores the issue of archival transformations within the new technological landscape: the effects of digital and distributed archiving techniques on memory practices, research methods and access to primary sources, and the relationship between professional practices and policies under different socioeconomic circumstances. She has served as Chair of the Hungarian chapter of the Open Document Format Alliance since 2006, and works closely with the open source community. She was the Senior Researcher in the EC-funded HOPE project – which aimed to build a digital infrastructure for social history archives – and is a member of the Coordination Committee of the International Labor History Association. As a consultant and evaluator she has worked with EU and other international research programs. She co-directed and initiated ADA 2012 and ADA 2013, and was involved in developing the ADA curriculum into a long-term initiative. Ivacs holds MA degrees in History, Italian Literature, and Information Management, and is presently completing her PhD in Interdisciplinary Sociology.
Marc Kosciejew, Department of Library Information and Archive Sciences, Faculty of Media and Knowledge Sciences, University of Malta
Dr. Marc Kosciejew is a Lecturer of Library, Information, and Archive Sciences within the Faculty of Media and Knowledge Sciences (MaKS) at the University of Malta. He received his BA in Political Science at the University of Toronto and his MLIS and PhD in Library and Information Science at Western University. He has researched, lectured, and presented worldwide including in Africa, Asia, Europe, and North America. He has been published in peer-reviewed and professional journals on diverse LIS subjects including documentation science, records and information management, and the intersections of society and technology. He also conducted research in North Korea (Democratic People's Republic of Korea) on the secretive Communist state's library system, becoming one of the first English-speakers to present and publish on this specific topic.
Carlo Meghini, Networked Multimedia Information Systems Laboratory, Institute of the National Research Council of Italy
Carlo Meghini (http://www.isti.cnr.it/People/C.Meghini) is prime researcher at CNR-ISTI in the area of Knowledge Representation and data modelling. He holds a Laurea cum laude in Computer Science from the University of Pisa, with a research thesis on distributed databases. He has participated in several EC funded research actions in the area of database systems and multimedia information retrieval. Lately, he has been involved in projects on digital libraries (DELOS Network of Excellence, BRICKS, EDLNet, Europeana version 1.0, version 2.0, version 3.0, ASSETS, ARIADNE, eCloud) and Digital Preservation (CASPAR, Presto4U). From 2007 he is involved in the making of the European digital library (Europeana, www.europeana.eu), taking care of the scientific aspects of the project. He is currently coordinating the FP7 Coordination Action PRELIDA on Preserving Linked Data. He has published more than 90 scientific papers in international journals, books and conferences.
Robert Parnica, Senior Reference Archivist, Open Society Archives at Central European University, Budapest, Hungary
Robert Parnica graduated in history and archaeology from the History Department at the University of Zagreb. He continued his education in Budapest where he completed an M.A. degree in History, later earning an M.Phil. degree in Comparative history of South East Europe at Central European University. Recently, he earned an M.A. degree in International Relations from Corvinus University of Budapest. He joined the Open Society Archives (OSA) at Central European University in 1997. Since then, he has been coordinating the daily activities of the Reference Services and has been involved in the processing of archival analogue and digital collections. Since 2005 he has been working as Senior Reference Archivist, and serves as a mediator between the archival collections and the international academic public, both personally and online. His interest is focused on physical and online users, their research needs, and their requirements – recently, Robert has been drafting a set of rules and procedures intended for users and for responding to their off-site and on-site requests. His professional interest covers themes such as collaborative and participatory archival practice, as well as the cultural and anthropological positioning of archives today vis-à-vis society. His narrow field of interest also includes the violation of human rights in the Balkan region, and the history of the collapse and disintegration of ex-Yugoslavia.
Oleksandr Pastukhov, Department of Information Policy and Governance, Faculty of Media and Knowledge Sciences, University of Malta
Dr. Oleksandr (Alex) Pastukhov is a Senior Lecturer at the Department of Information Policy and Governance of the University of Malta. His areas of expertise include digital copyright, Open and Free Software, trademark protection online, privacy and personal data protection, cybercrime, and public sector information. Dr. Pastukhov is a widely published author and a regular speaker at various national and international (including European Parliament and the Council of Europe) fora dedicated to ICT law and policy issues.
Hrvoje Stancic, Department of Information and Communication Sciences, Faculty of Humanities and Social Sciences, University of Zagreb
Hrvoje Stancic, Ph.D., associate professor at the Department of Information and Communication sciences, Faculty of Humanities and Social Sciences, University of Zagreb, Croatia and Head of the Chair for archival and documentation science. He teaches at the undergraduate, graduate and postgraduate level of studies. For five years he was guest professor at the University of Sarajevo, Bosnia and Herzegovina, and for two years at the University of St. Kliment Ohridski in Bitola, FYR Macedonia.
He was a researcher at several national and international research projects and is currently managing the Croatian research consortium in the InterPARES Trust project. He is the author or co-author of two books, 11 book chapters, and around 50 scientific and professional articles. He is co-editor of four proceedings of international conferences. He is member of the board of Croatian Archival Association, member of Croatian Information and Documentation Association and he is a member of and the Faculty representative in International Centre for Archival Research (ICARUS).